I was recently on a consultation call with a potential client — let's call her Jane. Midway through my spiel, Jane asked how much do wedding invitations cost. I explained that invitation pricing varies a lot, and that there are many elements people forget about when budgeting for their wedding stationery.
So, let's make sure you feel well equipped when it comes to the numbers. I know talking about your budget isn't the sexiest topic to discuss, but it's vitally important. Asking "how much do wedding invitations cost" is a fair question. And the answer, annoyingly, is "it depends."
Let's dive into why. In this blog post, I'm going to tell you what I told Jane:
price boils down to three things
ranges for invitation costs
elements that add to your base pricing
determining what "level" best suits your wedding
things couples forget to include in their invitation budget (hint: it's not just your invitations)
---
Price boils down to three things
The cost of your invitations boils down to three things:
⏰ Time spent by your vendor(s), and
💌 Quality of the materials/printing used, and
💃 Quantity in your order
You get to choose each of these based on your preference and budget.
Time: The more involved your stationery designer is (or isn't) will dramatically impact the price.
Quality: The higher the quality of your materials and printing, the higher your price. Materials can include everything from the card stock itself, down to the embellishments like wax seals and ribbon. Printing can be done as a DIY from home. It can also be done by hand in an artisanal way, by a skilled technician on your behalf (cough, cough letterpress and foil stamping). And everything in between.
Quantity: The more invitations you need, the more expensive your pricing will be. That one's pretty self-explanatory. Keep in mind that invitation quantity is one per household, not one per guest — but the more people you're inviting, the more invitations you'll need.
---
Ranges for invitation costs
Now that you know the "why" behind the cost of invitations, let's look at the ranges of costs. Again, the answer to "how much do wedding invitations cost" is a grey area. This list is in order from least expensive to spendiest most luxurious.
Because quantity is dependent on your list, I'm going to leave this variable out, with expected pricing for 100 sets. Likewise, I'm only including invitations and reply cards here. If you need more cards or added embellishments, the price will rise.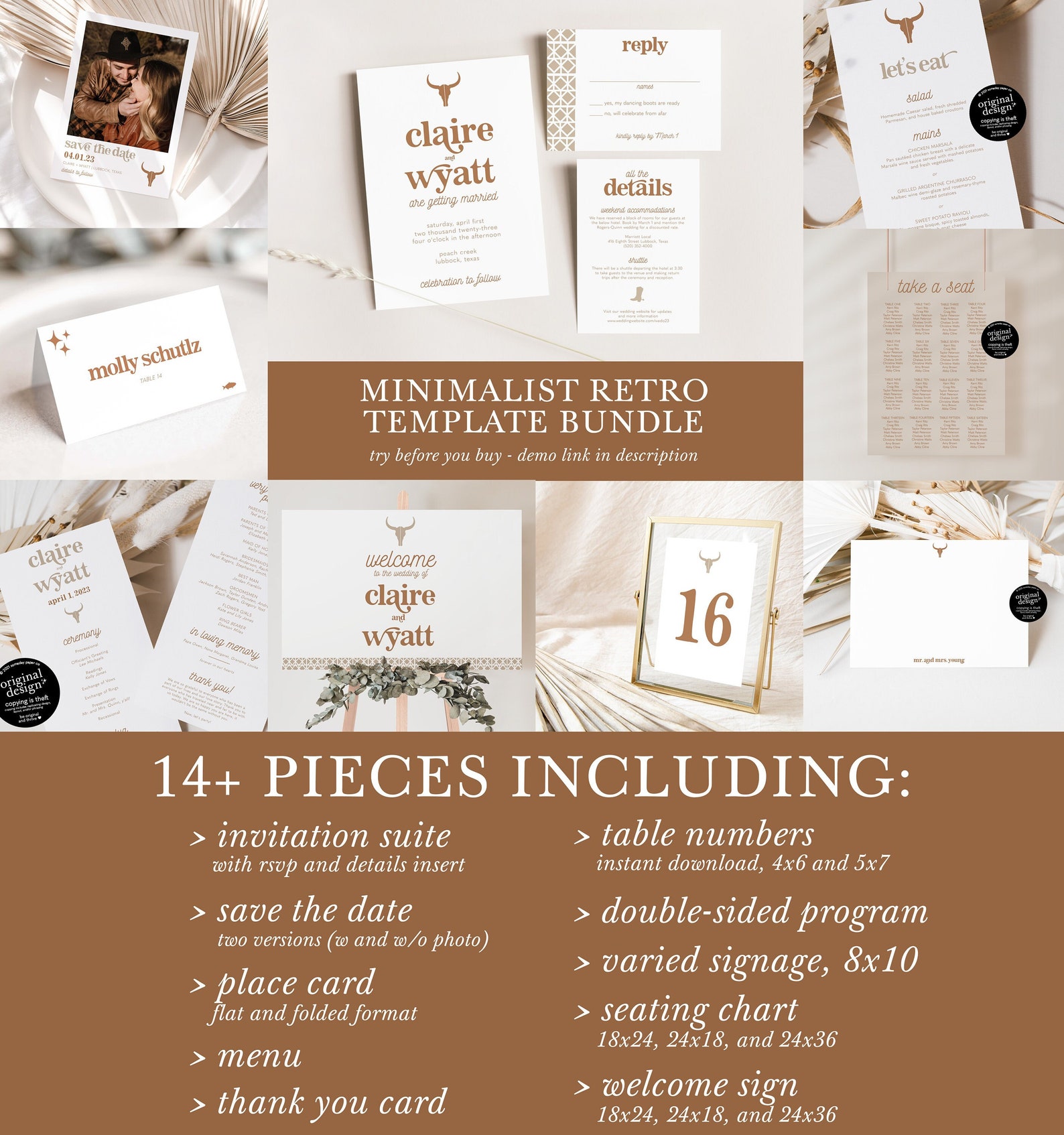 Digital download template: With this option, you purchase an editable template file and receive an instant download. You are responsible for everything: filling in the customizations for your wording, taking it to get printed, adding any embellishments, and assembly/mailing. My favorite options for this are Someday Paper Co and CZ Invitations — both are independent, women-owned businesses!
Time: Zero. This burden falls on you! Save money, invest your own time.
Quality: Likely low. Digital printing only and your local UPS Store or Kinko's isn't going to have the creme de la creme of options. 😳
Price range: $50 – $150 on a template, plus another $100 – $150 for envelopes and card printing at a local vendor x 100, and $50 in miscellaneous (maybe a return address stamp etc). Total price range likely $200 – $350. Average $275 / 100 = $2.75 each.
Online big box store: You'll purchase your invitations from any of the big dogs — Minted, Zazzle, Shutterfly, etc. They offer a ton of variety in terms of designs and print methods. You're responsible for filling in the customizations, but the vendor will handle the printing and ship your order to you. You'll need to add any extras and handle the assembly/mailing.
Time: Zero. Again, save money, spend your time.
Quality: Varies. You can opt for standard paper and digital printing (cheapest), or upgrade to thicker papers and/or fancier print methods. Some offer return address printing and guest address printing, for small added fees. They're able to source materials cheaply because of their high volume. Quality control on printing will not be as discerning as you'd expect with a smaller vendor.
Price range: I spent a little time on Minted, building invitation packages. It's for research. ☠️ For a standard digitally printed main invitation card / envelope (with return address printing) and reply card / envelope, it ran $478 for 100 sets. With a foil stamped design, adding in the "personalization foil" (so your names are actually done in foil, ahem), the suite came in at $697. For the same combo in letterpress, the package came to $1,135. Add in $10 of shipping regardless, so the total price range hovers around $500 – $1,150. Average $825 / 100 = $8.25 each.
Semi-custom collection: With this option, you'll select from pre-designed invitations, but you get the benefit of professional guidance to enhance your design and there are more available customizations. You can meet with a professional at a specialty invitations store (in metro Detroit, my go-to suggestion is Lee's Paperie) to select your package from a variety of vendors, or you can work with a designer (like me!!!) directly. Assembly still falls on you, but you'll get instructions to assist with the process.
Time: Some. You're paying for the service (consultation, wording input, packaging, assembly guidance). You're also paying for a unique design proof mockup put together with your exact specifications, so you can visualize the entire package put together.
Quality: High. Designers handle printing with an attention to detail, using the highest quality materials and printing methods for your project.
Price range: My invitations collection is certainly not the cheapest on the market, but it's competitively priced. With this in mind, I'm using my pricing here for reference. For 100 sets of invitations, reply cards, and envelopes for each, pricing ranges from $1,125 for digital printing to $2,235 for foil stamping (letterpress priced in between). Add in $25 shipping if you're not local to metro Detroit, so the range becomes $1,150 – $2,260. Average $1,705 / 100 = $17.05 each.
Custom design: If you opt for custom design, there's no "foundational design" to start with. You'll work with a stationery designer to start your design from scratch. You won't have to lift a finger — everything is covered for you, from wording to printing, from design to assembly.
The sky is the limit here, so I'm only including an entry price point for this category. You can get as crazy as your imagination will allow!
Time: A lot. Like… a lot, a lot. I spend 40+ hours on each custom client I work with.
Quality: Exceptional. You're only going to get the highest quality offerings here. Many custom designers, myself included, require at least one luxe print method (letterpress, foil stamping, embossing, engraving) as part of the package.
Price range: The biggest jump in this category is an added design fee. Any designer worth her salt will charge a line-item design fee, to cover the immense time involved in your project. My starting design fee is $2,200 (this covers 40 hours at a design rate of $55 per hour). Along with the required luxe printing, I also include double thick stock for the invitation card, an added details card, assembly, and envelope calligraphy as part of the standard package for my custom clients, because it's luxurious from start to finish. Again, as an entry range (but most clients spend far more), a 100-set custom project with me starts at $5,992 / 100 = $59.92 each.
---
Elements that add to your base pricing
Since you're wondering how much wedding invitations cost, I have to be honest — the base pricing is generally not the whole package. All the other elements come together to make your invitation suite just that: a suite. These are the embellishments that add to the overall experience for your guests. But they add to the price tag.
Again, these items are typically priced a la carte. So, the higher the quantity you need, the higher the cost. The easiest way to keep the price down for your invitations (and just about everything else for your wedding) is to keep the guest count to a minimum. Sorry for the tough love on that.
Do you need a wax seal or envelope liner to convey key info? No, of course not. But do these elements add to the anticipation your loved ones will have for your event? Definitely.
Every couple chooses a different combination of embellishments, so there isn't really an average to include here. You can go as simple ($0) or as elaborate ($1,500+++) as you'd like!
---
Determining what "level" best suits your wedding
Now that you know how much of a range there is, how do you determine what type of invitation best suits your wedding? My tip is a general one for wedding planning: set your triangle.
Estimate your overall guest count, budget, and vibe you want. These three aspects of a triangle work in tandem with one another, creating a give-and-take.
If you want to have an elegant, luxury guest experience as your vibe and a high guest count, plan on also having a high budget.
However, if you don't have a high budget, but you're set on that luxe experience, the "side of the triangle" to adjust is the guest count. You can provide an opulent experience for a small group to respect your overall budget.
On the other hand, if you have your heart set on having a big group, but can't afford to spend more, you'll need to have things be less extravagant.
It doesn't matter how you decide these elements work in your "triangle," but have an idea of them ahead of time. This will inform your decisions for everything that's headcount-related throughout the entire planning process. That's just about everything.
So how does this triangle work for wedding stationery? Well, you need to know the number of invitations and other pieces you'll need, in order to get an accurate quote.
Once you've determined what that guest count is, and how much you're looking to spend, you're able to determine if your invitations will be simple and printed in a lower-cost format, intricate and detailed, or somewhere in between.
---
Things couples forget to include in their invitation budget (hint: it's not just your invitations)
Too often, I chat with couples who have set a budget for their wedding stationery and then are surprised when the total number is more than they had anticipated. This happens when they've asked "how much do wedding invitations cost," but haven't considered other items that add up!
Factor in these "afterthought" items. They're important, too. The two biggest categories here are postage and day-of-wedding items. Save the dates also make the list, with another few hundred spent there!
On your big day, you'll want stationery at a variety of touch points for your guests. Clients typically spend $800 – $1,800 on their day-of-wedding items (custom clients spend more).
For postage, you want to remember you'll need postage for all of the following items:
Save the date
Invitation outer envelope (typically at least two stamps if you're doing anything fancy here)
Response envelope for the reply card
Thank you note
That's five stamps per household. For the same 100 sets, with stamps at $0.60 apiece, that's an added $300.
It's important to keep this in mind if you're going the DIY or "big box" route for stationery, so you don't end up unexpectedly over budget. An expert will help educate you on what all this costs, so you have a sense of pricing up front – no surprises.
---
So how much do wedding invitations cost?
There you have it: my 2,000+ word novel in-depth answer to say "it depends." If you have a target budget range in mind, make sure it incorporates your desired print method and embellishments, as well as your postage and day-of-wedding stationery. Otherwise, you're bound to have sticker shock somewhere along the way.
As a benchmark, earmark 4-8% of your overall wedding budget to your stationery, regardless of quantity. A higher percentage makes sense if you plan to incorporate luxe printing and/or more details on the big day itself! If you're planning to spend $60k on your overall wedding, that puts your stationery budget between $2,400 (4%) and $4,800 (8%).
Bare bones pricing:
$275 for template
$240 for postage
Grand total = $515
***No save the date or day-of-wedding items***
This is 4% of an overall $12,875 wedding budget.
Luxe pricing:
$1705 for invitations (semi custom)
$1500 for embellishments
$300 for postage
$1800 for save the dates and day-of-wedding items, combined
Grand total = $5,305
This is 7% of an overall $75,785 wedding budget.
Remember, these are average prices, for 100 sets. If you plan to go with luxe printing/embellishments, or are inviting more people, plan to spend more.
To make sure you've got all the elements considered, get my FREE wedding stationery checklist here.
And the best way to get the most bang for your buck? Getting a personalized shopping list for exactly what you need for your day. I can send this to you (for FREE) after chatting during a video consultation or with a questionnaire you fill out.